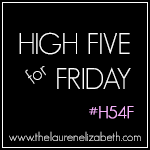 So I decided to post while I am at the computer doing homework, or at least trying to heh. I at least completed everything that is due soon so a girl needs a break. Only 2 weeks of summer semester left and then a few week vacation! YAY! Anyways so here are five things that excited me this week!
ps; sorry there aren't any pictures, I am being lazy!
1.
The Capital Area Humane Society here in our city had a free pet adoption today if you brought in things from their urgent list and we did that and came home with a 3-5 year old dog. She is named Sierra and is a collie mixed. She is super calm and pretty nervous at first. I am hoping she opens up! Gosh she is so loving. What makes it better is she was a stray and someone found her so we rescued her ;-)
2.
I am closer to my due date and being full-term! AMEN! Ugh. The heartburn is horrible and the kicks are non-stop and jabbing pains when he kicks and certain way. 2 weeks from Tuesday and I will be full-term, he can come that day lol.
3.
I have been taking pictures with my camera as well as Donovan, playing around with it and it was definitely a great investment, love it!
4.
I have been web-surfing (lol I hate that word) and found a few things I want to do and take up in my free-time and maybe make some extra income on them, be on the look out!
5.
This week has been horribly hot and sunny but I have loved it because we haven't had much of a summer. But now it can go away. We have had a heat advisory for the whole week since temperatures have been in the 90s and heat indexes in the 100s. Only in Michigan would it be 70-80 and then skyrocket lol. Luckily it has cooled down a little because our lawn needs some loving tomorrow or Sunday, ahem Donovan is going to mow that lol.
Again, sorry about the lack of pictures. I will try and be better with that form now on since I have a camera instead of my phone which is useless. If you aren't yet, you can follow me on
Instagram
because I do post from time to time throughout the week on there. It is private so you have to request to follow me back but I do follow back!